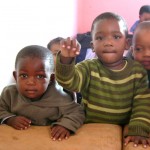 Few people who visit South Africa can avoid noticing the desperate poverty that exists away from the tourist areas. Living in Cape Town (whilst Paul was working there) it didn't take me long to realise that I wanted to do something to help. I volunteered to work for the South African Education and Environment Project and sent them my CV, naively imagining that I could help small children to learn to read – without realising that I'd first need to learn the local language, Xhosa. The people running the charity had a better idea.
"You used to be an architect…" they said, "Could you design us a school?"
The following week found me divesting myself of my camera, mobile phone, money and jewellery before being delivered to a day-care centre where I was ushered through a hefty steel gate that was immediately slammed shut and padlocked. The centre had originally been the home of the principal, Constance, but she'd started looking after other people's children whilst they were at work. More and more children arrived and she needed more space, so a timber and corrugated iron shack was constructed behind the school and she moved into it with four of her own children and four others that she had taken in when their mothers died.
Measuring the building didn't take long. The total floor area was just over 36 square metres and this included a kitchen, a bathroom, an office and two teaching rooms. The education department had approved a total of 19 children but by late 2011 the actual number was approaching forty and a big extension was needed! The obvious way to do this was to move the living accommodation to the first floor, demolish the shack and build a third classroom on the small plot of land at the rear of the building.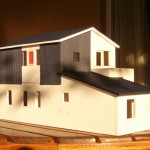 I sketched out a few ideas and went to see the Building Inspector but discovered that few of the restrictions that I'd been used to in the UK apply in the townships! Once I'd completed my design, I built a big card model and delivered it to the charity to use during their fund-raising campaign. By early 2013 they already had about half of the R700,000 (£50,000) they will need to complete the building, planning permission had been applied for and a local Architect had been appointed to oversee construction which will hopefully begin this year.
For more information about the South African Education and Environment Project  visit the website at www.saep.org
For specific details of the Thandolwethu project contact jane@saep.org